Supply Chain Control and Traceability 
When scientists select their sera, the product must come from a company that guarantees the integrity of its supply chain.
All suppliers should be able to follow an unbroken paper-chain through every stage of production: 
• From the collection of the serum
• Throughout all the steps of processing and production
• To the final packaging and labeling at the processor's premises
Supply Chain Control is important because it provides a chain of the identity of the product from the slaughterhouses or "donor herds" where it was collected, to the processing, packaging, and labeling facilities where it is made ready for sale and final distribution. Supply Chain Control ensures that the product being sold is made respecting regulations at each level. This unbroken chain of information is an indication of complete transparency and entire compliance.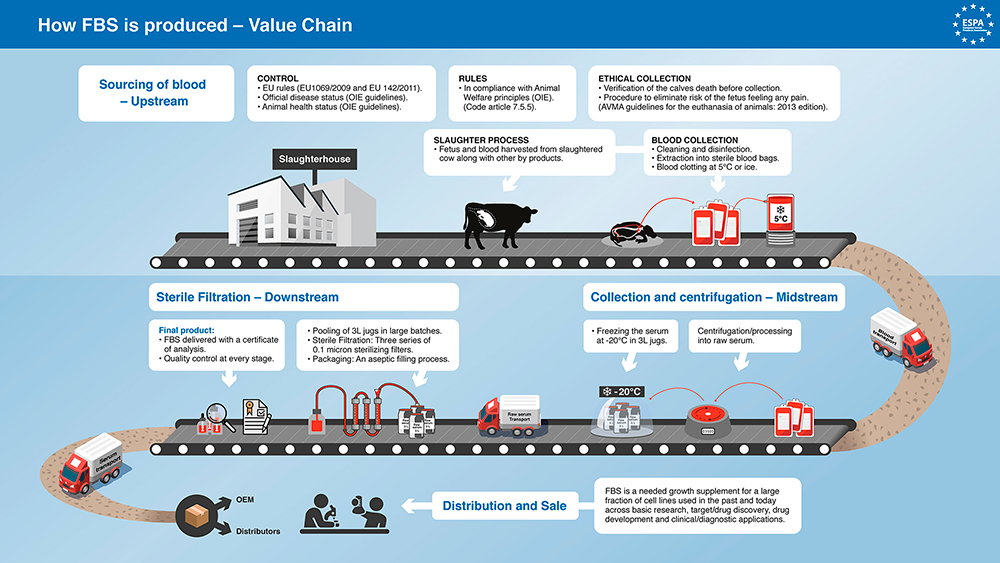 ESPA COMPLIANCE COMMITMENT
ESPA Member companies are committed to:
High technical and ethical standards, including zero tolerance for false claims about countries of origin

(3)

Full Control of their supply chain, and traceability

Strive to have ISO certified, audit friendly quality systems

(4)

Be open for audits by clients at any point in their supply chain on appropriate notice
ESPA ACTIVITIES
To promote the harmonization of regulations covering the trade and use of animal serum, following standards set by the World Animal Health Organization (OIE), the World Health Organization (WHO) and the World Trade Organization (WTO).

To represent its Members with European institutions and other national and international organizations.

To study questions relating to and defending the interests of the Serum Processing Industry.
To promote the education of Members, regulatory authorities, end users and their associations and other serum industry stakeholders.
To facilitate the exchange of technical information within the industry itself and with other economic and scientific sectors.